How To Choose The Best Suited Full Service Household Move Company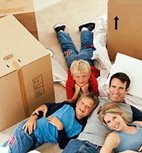 People who are relocating to a different state or country often look for a full service household move firm. The reason for this is simple: everything will be taken care of by the movers and you do not have to worry about anything. This service, however, can sometimes be quite expensive. Most people are, therefore, mostly confused about whether they should choose a full service or a self service.
What service you choose will depend mainly on how far away the new location is, the number of goods to be shipped and your budget. In case you find yourself overly confused, you can request quotes from some good and reliable service providers for the purpose of comparing household moving companies so that you can make an informed decision.
A full service household move firm will obviously cost more than a self service firm, but the former is safer and more convenient. It all, basically, boils down to your budget and how much you are willing to stretch it.
Full Service Company Vs. Self Service Movers
A full service company will be equipped with trained and skilled staff members who will aim at making moving as easy for you as possible. All you need to do is hire a company, and everything from packing and loading to unloading will be taken care of. Needless to say, it is an expensive option to hire a full service household move firm.

A self service moving company, on the other hand, will only take care of the transportation part. Everything else, like packing, loading and unloading of goods, needs to be done by you. Although this is a more cost effective option, it does tend to making relocating and moving cumbersome.
When Hiring A Full Service Company Makes More Sense
While hiring self service movers is a good way to save money, it sometimes just makes more sense to turn to a full service household move firm. This is especially true in the case of long distance household moving. Self service moving requires you to pack all the belongings and load and unload them yourself, only the transportation bit is taken care of by the company. This seems to be difficult if you are moving to a far-away location as you might be too busy taking care of other things.


Hiring a full service moving company for household belongings also makes more sense if you have goods which need to be packed carefully. These include things like delicate decoration pieces, valuables and other articles that are prone to breaking and damage. You might not be able to pack these items yourself while offering the best possible protection.


While there are times when hiring a full service household move company is the best possible and most viable option, you might still not want to spend a lot of money. In this case, you can try and find a company which offers good deals and thus helps you save money. You can locate a good and reasonably priced service by researching online and requesting quotes from different sources for comparison purposes. Alternatively, you can turn to a domain like long distance moving companies .com and fill out a quote form. You will receive quotes from at least three different services in the area. You can then analyze and take a final pick.